GCSEs - What can a parent do?
Improving GCSE results through parental partnership
Now Available New 4th Edition, September 2014, fully updated to incorporate all Government changes including IGCSEs and Ebacc.
More than 300,000 books sold since first published!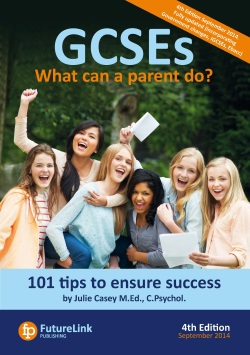 'What parents do is more important for children… than parental occupation, education or income' (DCSF 2008).
With all the changes to the GCSE certification from September 2014, the pressure on schools and students to up their game has never been greater. The need for parental understanding and support during KS4 is more important than ever. 


How do we get Parents on board? 'Over two thirds of parents expressed a desire to be more involved in their children's education.' (DCSF 2008)
The problem in Y10 and 11 is that parents often lack the information or confidence to do so effectively, and believe that they haven't got the specialist skills or knowledge to help their child. Now, at a cost of only £2.50 per parent, you can offer them all they need to support their child throughout Y10-11, and at the same time improve the school's A*-C results significantly.
A comprehensive pocket-sized guide for parents: 'GCSEs: What can a parent do?'
This invaluable guide (free sample enclosed) offers parents and their children a comprehensive, accessible and practical guide to each stage of the GCSE process:
Choosing options
Homework, coursework and controlled assessments
Revision planning and strategies that work!
Exam technique
For parents it offers additional tips on setting up a work corner, establishing routines and expectations, dealing with excuses, handling a lack of motivation, dealing with stress and much more. Useful appendices list the best websites, clearly explain the GCSE system and offer a 'what to do if...' guide.
Written by an Educational Psychologist with four children who have all undertaken GCSEs (with varying degrees of motivation!), the book includes a wealth of tried, practical and 'do-able' tips and ideas to support parents in supporting their children through the GCSE years.
No-risk ordering
We offer a no-risk plan for schools. At only £2.50 per copy you can give the books away to parents, add a little to the price and make some money for the school, or sell them at cost price. Always a success at Options Evenings, Y10 and Y11 Parents' Evenings and target setting meetings, it is unlikely that you will have unsold copies but, if you do, simply return them to us (boxed as shipped) within two months of receipt for a full refund. All orders will be accompanied by an A3 colour poster to help you to promote the book to parents.